About The Recruit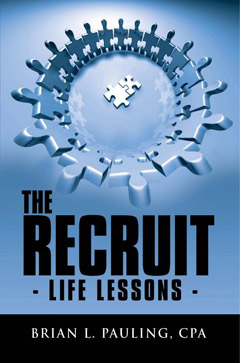 THE RECRUIT: - Life Lessons - is a refreshing down-to-earth book that promotes Personal Growth and develops Leadership Skills.
Many times, we find ourselves saying, "I wish I had learned that lesson, received that information or understood that concept earlier in life". The author, Brian L. Pauling, CPA, CGMA, CCEP, CDP, CFE  shares some of his personal experiences, Life Lessons, so you do not have that regret.
He writes these experiences in a manner that captivates and persuades people of all ages to become a Recruit of Life Lessons.
Lessons that you apply to a function at work, OR to finances at home, OR to your children are great. However, LIFE LESSONS, those that you can apply to every aspect of your life, mean so much more.
Special pricing, purchasing and additional information about THE RECRUIT: - LIFE LESSONS - may be obtained by clicking on the publisher's website link here, www.authorhouse.com, or by going to the publisher's website. The book is available in hard cover, soft cover and electronic download. Additionally, THE RECRUIT: - LIFE LESSONS - may be purchased by clicking on one of the following retail website links or by going to, www.amazon.com or www.barnesandnoble.com.
To obtain information regarding scheduling speaking engagements, book signings, book readings or other personal appearances please navigate to the "Contact Us" page of this website.